Taking a sip from a clean, crisp beer glass is just one of the pleasures of being a beer enthusiast. However, if the glass is not properly cleaned, the enjoyment of beer drinking can quickly turn into frustration.
Before we know it, we are left with stubborn stains and residue that just won't go away. That's why I decided to explore the world of beer glass cleaners to find the two best products out there that can help you keep your beer glasses in top-notch condition.
As I delved into my research, I learned that choosing a beer glass cleaner requires careful consideration. What works for wine glasses or champagne flutes may not be suitable for beer glasses.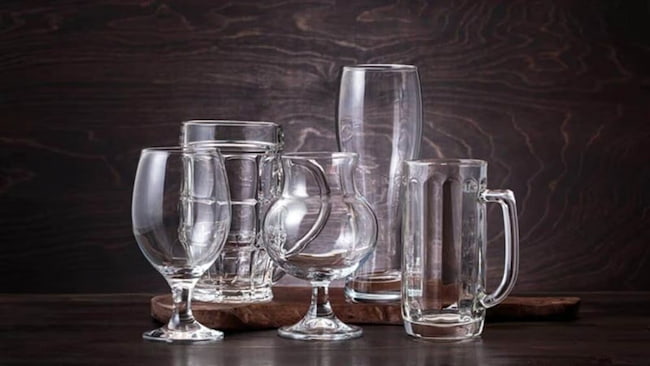 Don't assume that any general-purpose detergent or soap will do the trick – it might actually ruin your precious glassware in the long run. Instead, it's crucial to pick out a cleaner that is specially designed for beer glasses and won't damage the glass quality or leave a residue.
I have picked the best beer glass cleaners from the market for you and reviewed them here today. If you like the products that I have reviewed below, get them today!
Best Beer Glass Cleaners
Through my research, I identified two top-notch beer glass cleaners that stand out in the market. These products tick all the right boxes: they are safe, easy to use, highly effective, and made specifically for beer glasses.
Whether you are an occasional beer drinker or someone who enjoys a glass of beer every day, I guarantee that these two best beer glass cleaners will make your life a lot easier by keeping your beer glasses sparkling clean. So let's dive in and take a closer look at these cleaning champions!
The Diversey 990221 Beer Clean Glass Cleaner is a powdered cleaner that is designed to clean beer glasses. It contains an odorless detergent system, which provides excellent rinsing results. This cleaner is also concentrated, so one bottle will make up to 100 gallons of cleaning solution.
It is made with biodegradable ingredients and is EPA-Registered. The cleaner is safe to use on all types of glass and will help to remove lipstick, oils, and deposits from glassware. It can also be used to remove water spots and mineral deposits, as well as film and haze caused by hard water.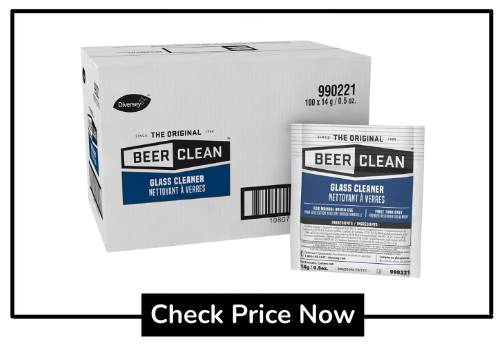 The Diversey Beer Clean Glass Cleaner is a highly concentrated, fast-acting glass cleaner that cuts through grease and grime, yet rinses easily. It's ideal for cleaning beer glasses quickly, and it's safe for all glassware. Also, it's safe to use with hot or cold water.
With our testing, we found that this glass cleaner is safe to use on all types of glassware, including beer glassware, without leaving behind residue or film. With great cleaning performance at a fair price, the Diversey Beer Clean Glass Cleaner is worth every penny.
The Diversey Beer Clean Glass Cleaner is a powdered compound that cleans in hot and cold water. It is concentrated and odorless and environmentally friendly. It is able to clean both hard and soft water. If you want to keep your beer glasses or any regular glass clean and odor-free, pick this product.
The minimal sudsing, the odorless detergent system provides excellent rinsing results that cut down on watermarks. The beer clean glass cleaner provides thoroughly cleaned glassware with no odor, aftertaste, or residue, leaving your customers with a better-tasting product.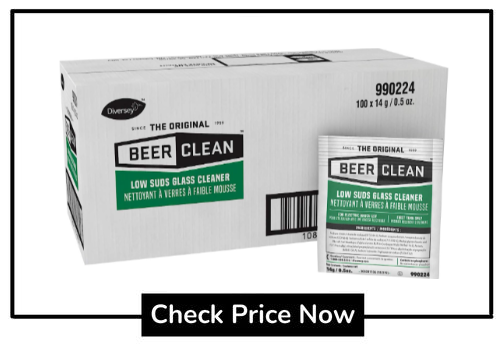 Additionally, it is effective against hard water spots, reducing the amount of scrubbing you have to do. It is also safe to use on plastic surfaces, making it a versatile product. This glass cleaner is designed specifically for beer glasses, and it does a great job of removing stains and smells from beer glasses.
It is even powerful enough to remove grease from mugs, making it a versatile glass cleaner that can be used for more than just beer glasses. Surely, worth every penny! Try it today!
How To Find The Best Beer Glass Cleaner Chemical
It is extremely important to choose the right beer glass cleaner so that your drinking experience is as enjoyable as possible. With so many options available, it can be overwhelming but don't worry. The next time you need to clean your beer glasses, use the following tips to find the best beer glass cleaner.
1. Make sure it is safe to use with beer glasses
A clean and clear beer glass is essential when enjoying a cool, refreshing beer, however, cleaning beer glasses can be difficult because they are often covered in sticky residue and foam. That's why it's crucial to invest in a good quality beer glass cleaner that will keep your glasses looking crystal clear.

But before you make your purchase, there's one important thing to consider: the ingredients of the cleaner. You want to make sure that it's safe to use with beer glasses and won't leave any toxic residue that could affect the taste of your drink.
2. Look for a cleaner that doesn't require any scrubbing
Keeping your beer glasses clean is crucial to ensure you have the best drinking experience. Dirty glasses can affect the taste of your beer, and no one wants that. You might think that cleaning beer glasses is a daunting task, but it doesn't have to be.
There are plenty of cleaners available in the market that can make your job a lot easier. The key is to look for a cleaner that is easy to use and doesn't require any scrubbing.
3. Make sure the cleaner is effective
Removing stubborn stains from beer glasses requires a cleaner that is specifically formulated to tackle them. When choosing a cleaner, look for one that is designed for glassware and has a strong degreasing action. A good cleaner should also be able to remove any residue left behind from previous drinks, ensuring that your beer tastes fresh and crisp every time.
Another thing to consider when choosing a cleaner for your beer glasses is the pH level. A cleaner with a pH level of around 2 to 3 is best as it will help to break down any organic matter and mineral deposits that may be present on the glass.
4. Choose Cleaners specially designed for beer glasses
A great beer glass can make a big difference in the taste and overall experience of drinking beer. However, great beer glasses come with great responsibility – you need to take care of them properly to keep them in tip-top shape.
That's where beer glass cleaners come in – but not just any cleaner will do. In my experience, it's really important to choose a cleaner that is specially designed for beer glasses and won't damage the glass.
Why Should You Use Beer Glass Cleaner?
Why does the cleaner matter? Well, first of all, regular dish soap can leave residue on the glass that affects the flavor of the beer. But even more importantly, some cleaners can actually scratch or damage the glass over time. This not only looks bad, but it can also affect the way the beer tastes if the scratches are deep enough. Trust me, I've learned this the hard way!
That's why I always look for a cleaner that is designed specifically for beer glasses. These cleaners are formulated to gently remove any buildup or residue on the glass without leaving behind any damage or scratches. Plus, many of them are completely natural and eco-friendly, which is a bonus.
When it comes to choosing a beer glass cleaner, you should consider a few factors. Firstly, look for a cleaner that is gentle on your glassware. Harsh cleaners can damage the glass and leave scratches. Secondly, choose a cleaner that is safe to use. Some cleaners can be hazardous to your health if they come in contact with your skin or eyes.
Lastly, look for a cleaner that is easy to use and doesn't require any scrubbing. This will save you time and effort. So if you're serious about your beer glasses (and your beer!), make sure to pick up a high-quality, beer-specific cleaner. Your taste buds (and your glasses) will thank you!
How To Use Beer Glass Cleaner
When it comes to application, a spray bottle is the easiest and most convenient way to apply the cleaner. Simply spray the product onto the inside and outside of the glass, making sure to cover all areas, and then rinse thoroughly with water.
There are many different products on the market that claim to be effective at cleaning beer glasses, so be sure to read the label carefully and look for reviews from other users before making your final decision.
By choosing a cleaner that is effective at removing stains and residue from beer glasses, you can be sure that your glassware is always clean and ready for the next round of drinks.
Conclusion
Purchasing the right beer glass cleaner is crucial for maintaining your beer glasses' quality and clarity. Check the ingredients before purchasing a cleaner to prevent any damage to your beer glasses. An easy-to-use cleaner that eliminates the need for scrubbing is also a plus. It would help if you chose a beer glass cleaner that effectively removes stains and residue without damaging the glass.
By investing in the best beer glass cleaner, you'll be able to enjoy your beer at its best while making sure your glasses remain in perfect condition. We hope this review guide was helpful. Stay in touch with Chillbeer.net for more information.