Beer lovers and enthusiasts can relate to the thrill of discovering their favorite brews, sharing them amongst friends and family, and even bragging about their favorite brews to anyone who would listen.
However, as much as we love to indulge in our favorite brews, we know that keeping them fresh and ready for consumption can be a challenge, particularly when we want to take them on the go.
Enter the beer growler, the perfect solution for keeping your favorite brews fresh, cold, and ready for consumption anytime, anywhere. The question, however, is which is the best beer growler?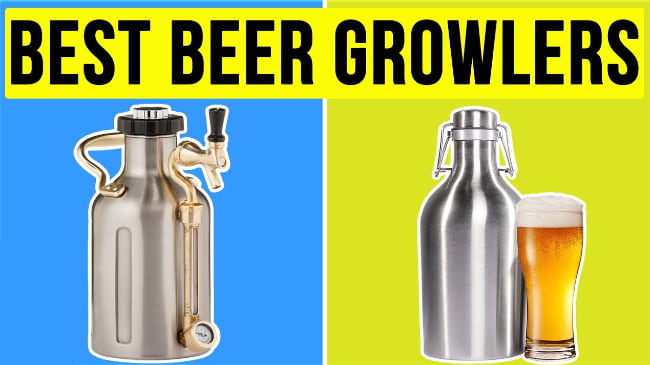 With so many options available in the market, it's easy to get lost in the plethora of growlers, making it difficult to settle for the one that fits your needs and preferences.
But worry no more, in this blog post, we have compiled a list of the top three best beer growlers that are worth your investment. Stay tuned and discover our top picks for the best beer growlers on the market.
Best Beer Growlers
From their durability to their ability to retain beer flavors and carbonation, we've got everything covered. So, whether you're a seasoned beer connoisseur or a novice, this blog post will help you choose the best beer growler to ensure you keep your favorite brew fresh, cold, and ready to consume whenever and wherever.
Whether you're headed for a camping trip, outdoor adventure, or just an evening in the backyard, we'll help you make a choice that you won't regret. Let's dive in and discover the ideal beer growler to make your brewing dreams come true.
The GrowlerWerks uKeg Go Carbonated Growler and Craft Beverage Dispenser is a beverage dispenser that comes with a CO2 cartridge. This dispenser has a sleek, modern design. It has a double wall stainless steel vacuum insulation that keeps the beverages cold. It also has a streamlined regulator cap that allows you to choose between high and low carbonation settings, depending on the beverage that you're serving.
This dispenser uses an 8-gram CO2 food-grade charger. It also comes with a low-maintenance and easy-to-use regulator cap. The uKeg Go is the perfect way to keep your craft beverages cold and carbonated for up to two weeks. It's perfect for home brewers, hobbyists, and parties.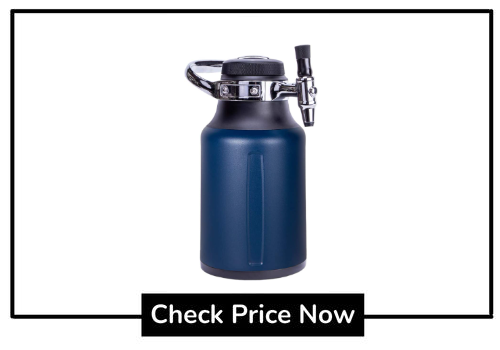 The GrowlerWerks uKeg Go is one of the coolest gifts ever for beer geeks, homebrewers, or craft beer enthusiasts. The uKeg Go can carbonate and serve up to 64 fluid ounces (1/2 gallon) of brew and carbonated beverages you can use a best beer making kit and the built-in tap makes it easy to pour and serve.
The stainless steel body is durable and resists dents and scratches, and it has a double-wall vacuum insulation design that keeps drinks cold and carbonated for days at a time. Unfortunately, uKeg Go only comes with one CO2 charger, although additional chargers are available separately.
This beer growler is made of stainless steel and insulated with solid stainless steel. It features a professional tap that can be adjusted. It features a 30 psi carbonation cap. It also has a double wall vacuum insulated design that allows you to keep your beer cold for up to 24 hours.
It has a built-in bar tap that is adjustable. This beer growler is lightweight and portable. It is a great gift for any beer lover. Razorri is a more premium version of the former Razor kegs, with a sleeker design, more expensive materials, and a higher-quality tap and CO2 system.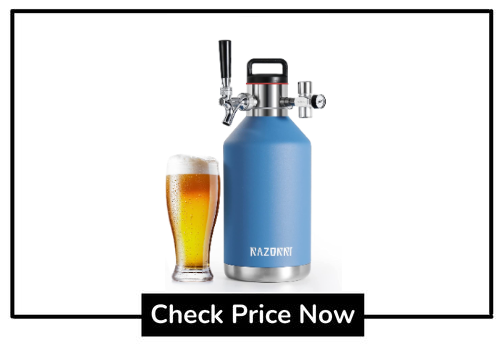 This keg is pretty easy to use, but you'll need to buy a CO2 tank separately. The tap is easy to use and it produces a nice, clean pour. The tap itself is made of stainless steel, too. The tap is also easily adjustable, so you can set the flow to 0.5 to 2 liters per hour.
The CO2 regulator holds 30 psi and is single-stage (our previous pick has a double-stage regulator), so the price may be worth it to those who like to drink a lot of beer. Overall, this is a great purchase for those looking for the best beer growler. 
The DrinkTanks Growler is an efficient growler that is leakproof and vacuum insulated. This growler is capable of keeping your beer cold for up to 45 hours. It has a handle, making it easy for you to pour your beer. It is ideal for sharing. It is crafted with premium stainless steel.
The surface of this product is scratch-resistant. It is 64 ounces. It is BPA-free, making it safe to use. It also features a CO2 Keeps Carbonation technology. This ensures your beer stays fresh and carbonated. This sleek growler is perfect for sharing homebrews with family and friends.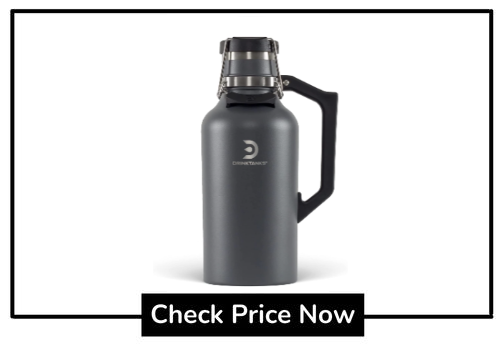 Unlike glass and plastic growlers, this stainless steel growler won't retain flavors, so every pour will be as fresh and rich as the first. It features a wide-mouth opening for easy filling and cleaning, and a secure, leak-proof lid for maximum portability.
The vacuum insulation will keep your beer cold for up to 24 hours, and its sleek, stylish design makes it an attractive addition to any bar or kitchen. Overall, this is one of the best beer growlers you can find at this price.
How To Choose The Best Beer Growler
While most of us are familiar with growlers, not all of us are as well versed in their intricacies. These ingenious vessels have truly revolutionized the way beer is enjoyed. Best beer growlers not only enhance the drinking experience by preserving beer's natural carbonation and flavor but also provide a convenient way to transport beer.
As the craft beer revolution gains momentum, consumers have an unprecedented number of options when it comes to growlers and know best home beer dispenser. With an overwhelming number of choices, it can be challenging to pick the best beer growler for your needs.
There are many types of growlers available, each with its own advantages. The most common type of growler is made of stainless steel or glass. While some prefer glass growlers for their aesthetic appeal, stainless steel growlers are more durable.
Glass growlers are also a great option if you prefer keeping your beer out of the light. Apart from these, stainless steel growlers with vacuum insulation have become increasingly popular. These heavy-duty growlers can withstand high temperatures and colder climates. For an added benefit, vacuum-insulated growlers keep their contents at a consistent temperature for a longer time.
Beer culture has evolved and is constantly evolving, giving rise to innovative beer styles. The rise in popularity of craft beer has led to a surge in demand for growlers. The advent of technology and changing consumer preferences have led to the emergence of new growler designs. As beer culture continues to evolve, consumers are increasingly looking for innovative products.
FAQs Answered about Best Beer Growler
Here are some of the most frequently asked questions related to beer growlers. We have answered these questions to help you make a decision to find the best beer growler.
Why do you need the Best Beer Growler?
Best Beer Growler is the best growler on the market. It has a wide mouth for easy access, so you can pour as much or as little as you want. The wide mouth also makes it easy to rinse out quickly between uses. The dual cap system will keep your beer fresh longer.
How does Best Beer Growler work?
Best Beer Growler comes with a universal adapter to fit all standard faucets. It also has a companion spigot that attaches to the lid so you can pour directly from the growler. When not in use, the spigot can be held in the lid and won't drip on your counter or floor. Best Beer Growler is made with stainless steel, so it won't rust.
What size is the Best Beer Growler?
Best Beer Growler comes with a 32 oz To-Go Growler. It is made of double-wall vacuum plastic, which holds in heat, keeps the beer cold, and prevents condensation from occurring. The To-Go Growler is insulated to keep your beer cold for hours. The wide mouth makes it easy to clean and the spigot is easy to install and remove.
What are the benefits of Beer Growler?
Using the Best Beer Growler has many benefits, such as:
Keeping your beer cold and fresh for longer periods of time
Allows you to conveniently carry your favorite beer in a stylish container
Easy to clean and store
Portable, so you can take it with you on your travels Spigot makes it easy to pour and serve your beer
Can be used to store other beverages like cold brew, cocktails, and more.
How long can Best Beer Growler keep my beer cold?
Best Beer Growler is designed to keep your beer cold and fresh for hours. The double-wall vacuum plastic insulation helps hold in the cold, and the spigot prevents unwanted spills. The wide mouth also makes it easy to rinse out between uses, which will help extend the life of your beer.
Conclusion
We hope you found the best growler for beer with the help of this guide. We have reviewed the top 3 beer growlers with their respective pros and cons here. Go through their descriptions and find the one which is most suitable for your needs. Take home a pint and share the love! After all, every growler is a work of art.
What are you waiting for? Go ahead and place your order today. If you have any questions related to these products, reach out to Chillbeer.net. Thanks for reading.